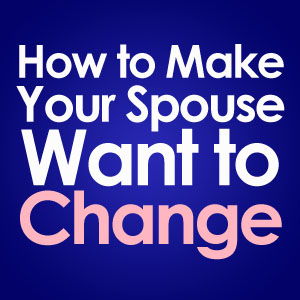 You can trigger positive change by behaving positively toward your spouse.  What do you need to do that will make your spouse feel more loving toward you and, therefore, want to go out of his/her way to please you?
If you are going about saving your marriage alone, rather than ask your spouse to make the change, ask yourself the following question: "What could I do that would make it more likely that s/he is going to want to make those changes?" Now, start doing that.
Other people tell me that in order to take a baby step forward, they have to continue to change their own behavior.  For example, they tell me, "In order for us to move up a half step on the scale:
"I need to keep a better lid on my anger when the kids are noisy."
"I need to appreciate the small things she does."
"I have to be more patient when she's late."
Again, if you've identified a change that is necessary in you, make sure it's positively stated, action-oriented, and doable in the next few weeks.  Then, surprise, surprise, become more diligent about doing it.
As with the response above, you might also ask yourself, "What could my spouse do that would make it more likely that I will stick to my plan?"  Once you figure this out, you might discuss this with your spouse if you think s/he might be amenable to it.
Still others tell me that the only thing that must change in order for them to feel better about their marriages is their level of confidence that their improvements are permanent.  They need to feel more certain.  For example, they say, "In order for us to move up a half step on the scale":
"I need to feel more relaxed about the changes.  I still feel that we are walking on eggshells."
"More time has to pass.  This is so new.  I'll feel better about us when I'm more convinced the changes are going to stick."
If this is how you responded, you should ask yourself, "How much longer would these positive changes have to stick in order for you to feel that this improvement isn't a fluke?"
When you respond to this, you should definitely keep in mind that, even in the best of marriages, there are ups and down.  Even if your changes are genuine, lasting changes, it doesn't mean that you won't have a bad day or week now and then.  It's important for you to make a distinction between an occasional bad day and the beginning of a downward spiral.  In fact, while I'm on the subject, you should answer this question.
"What would have to happen in order for you to feel that a bad day was just an isolated incident and not the beginning of a downward spiral?" (Be as specific as possible.  I want you to get to the point where you start to believe that your bad days are flukes and your good days are the rule.)
Reevaluate your progress weekly.  Keep doing this until you reach your goals, no matter how long it takes.  Just keep recording your success in a journal as you go, pat yourself on the back for small improvements, and be patient.  You are heading in the right direction, just keep going.