Today's Topics

1. Mother of The Bride

2. Welcome Divorce Busting Coach, Jerry Schreur

3. Advanced Divorce Busting Intensive Workshop

Mother of The Bride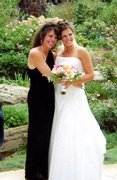 Hi there,
I know it's been a while since you've last heard from me but this time, I have a half-way decent excuse! My daughter got married in our home. We've been planning for about a year now and the big event is finally over! She was absolutely gorgeous, he is wonderful (gorgeous too, of course) and everything went seamlessly. (The weather could have been ten degrees warmer).

As the mother of the bride, I experienced all the usual feelings- utter joy in seeing my child take this important step in her life, the bittersweet feeling of wondering where the time went as I recalled her precious little two-year-old face, the awareness that, although she and her new husband are madly in love, love isn't enough; they'll need to work hard at sustaining their closeness and connection, and the delight in fantasizing about the pleasures their future together might bring. Because my daughter lives close to my home, I wasn't confronted with having to deal with the loss of not seeing her and her husband on a regular basis. I lucked out big time!

But sometime during the wedding, in the midst of all the celebration and hoopla, I couldn't help but put on my professional hat and find fascination with something I know about marriage and why so many of them end before "death do us part".

Have you ever noticed how, when a bride and groom are in each other's presence, their love is so intense that light emanates from their eyes? They're convinced that the world consists of just the two of them, for nothing else matters. Their hearts are full of passion. Their dreams are full of possibilities.

But then, there are the facts. Do you know that, of the marriages that end in divorce each year, fifty percent of those divorces occur within the first four years of marriage!!! Yes, you read this correctly, the first four years. Amazing, isn't it? How could it be that a couple can go from being so insanely in love and then just four short years later, never want to see their beloved again? What in the world happens?

Although it is without question that there are a number of factors contributing to the dissolution of a fledgling marriage, I feel certain, in my vast experience in helping couples strengthen their relationships and beat the odds, that one issue rises above the rest. And that is this- few people really know what to expect when it comes to marriage. They're without a marriage map. They enter a lifelong commitment without a compass, relying only on faulty, romantic expectations and mythical thinking. And then, when the real world happens -the inevitable passing of the infatuation stage- trouble begins to brew. That's because the lovesick rarely understand that conflict goes with the marital territory and more importantly, they generally lack adequate skills to manage and overcome it. So, passion is replaced with passionate rounds of blame and counter-blame. Disillusion sets in. And it's not long after that that people begin to wonder, "What was I thinking?" "I obviously picked the wrong person." And although it may take months or years in the unraveling, the fabric of marriage begins to weaken.

The antidote to this, in my opinion, is education, marriage education. If more couples understood that all marriages have predictable hills and valleys and that they can learn the skills required to navigate the uneven road ahead, we would have more competition for people like my in-laws on the dance floor that night at the wedding. My in-laws were proudly declared the winners of the dance contest for having been married the longest, 58 years. It was a slam dunk.

So, that's why I teach marriage seminars -because I think marriages should come with instruction manuals. And I hope I have done a good job "home schooling" my daughter. I know she knows that marriages require work and that they also require play. I know I've taught her about the power of real giving; that contrary to what most people think- that one should give in the way one likes to receive- real giving demands that you give to your spouse the things s/he wants and needs, whether you understand, like or agree with it or not. Your own feelings are irrelevant. You do it, because good marriages are based on mutual care-taking. I hope she remembers that her hubby should feel that he is the number one priority in her life, even after they have children. And let her never lose sight of the fact that there is no real replacement for quality time together and the chance to talk and touch. And last, but certainly not least, she should always keep in mind that they both need to fill their own cups with other interests, activities and spending time with loving friends and family….especially her mother.

---
---
Welcome New Divorce Busting Coach, Dr. Jerry Schreur
The Divorce Busting Telephone Coaching Program welcomes Dr. Jerry Schreur
Dr. Jerry Schreur is husband, father, and grandfather. As a marriage educator and counselor for the past thirty-five years he has encouraged hundreds of struggling couples to never give up, to be highly intentional about improving their marriage and to help them develop their own creative, unique vision for their marriage. Along with his doctoral studies and research which focused on marriage and family systems, his own marriage of over 40 years and the personal experience of working with his clients, he has learned that it is possible to work through great difficulties and disappointments, and not only survive, but thrive.

If you would like to schedule a telephone consultation with Dr. Jerry Schreur, or any Divorce Busting Telephone Coach, please give us a call at 800-664-2435 or 303-444-7004



Advanced Divorce Busting Intensive Workshop
November 3-5 - Boulder, Colorado
I invite you to join me for this 3-Day Advanced Divorce Busting Intensive. This is my favorite workshop- three full days of hands-on information about helping couples rebound from the brink of divorce, tons of video examples and experiential exercises. Small group, Boulder, Colorado, dinner together, getting to know other marriage-saving kindred spirits.... what could be better? Here's more information:

When you work with couples, do you ever ask yourself . . .
• How do I get spouses to stop blaming each other long enough to find solutions?
• How do I work toward improving the marriage if only one spouse will come in?
• What if one spouse is determined to get out? Can I really help turn things around?
• How can I help couples move beyond infidelity if they keep clinging to the painful past or if the unfaithful spouse won't give up the affair immediately?
• They rarely do their homework. Why am I working harder than they are?

In the last few years, I have developed a new model for working with couples experiencing very challenging problems. I've learned that generic marriage-strengthening tools often don't work with couples on the brink of divorce who feel hopeless. The Divorce Busting approach quickly restores hope by reaching into couples hearts and helping them believe that good marriages are possible. It is only then that they become receptive to doing what it takes to get their marriages back on track. Divorce Busting therapy is a solution-based, biased model that intentionally accesses couples' marriage-saving, family-preserving values and commitments in order to stack the deck in favor of the marriage.

In addition to teaching this comprehensive Divorce Busting model that can be used in clinical, pastoral or military settings, I will also show you how to develop and market your own marriage seminar by introducing you to two marriage classes you can teach "right out of the box." Plus, if you're interested in becoming part of my Divorce Busting Coaching Team, this intensive is the first step. You'll learn didactic information, observe new videotapes and participate in case consultations, group discussions, role-plays and experiential exercises. Here are more topics we will cover:

Examining core beliefs about marriage and marriage therapy
Divorce Busting® do's and don'ts
Techniques that build desire to reconcile
Techniques that polarize couples
Factors contributing to successful marriages

Across theories: What works in therapy?
A solution-oriented map for working with couples
What to do next with challenging couples
How to reverse negative momentum
Blending marriage education with Divorce Busting® therapy

It takes one to tango
A framework for working with individuals on relationship issues

A crisis in the bedroom
Bridging the desire gap
Overcoming infidelity
Affair-proofing one's marriage

Impasse busting
How not to work harder than they do
What to do when one person has given up
Overcoming the blame game and hopelessness
Dropping the therapeutic rope
Dealing with our own oppositional disorder
Homework assignments that work

Beyond techniques
Giving clients "open heart surgery"

Developing your own marriage class and taking it on the road

If you work with couples and are committed to helping them resolve their differences rather than dissolve their marriages, you won't want to miss this intensive training.
Register now! Call Virginia at 800-664-2435 or 303-444-7004 or email info@divorcebusting.com. You can also sign up on-line at divorcebusting.com
YOU SAVE $200 off the regular registration fee when you call our office before October 10th and say that you received this newsletter
PERMISSION TO REPRINT: In the past, I've received many requests for permission to reprint sections from the Divorce Busting newsletter. You may reprint a section or article in your own print or electronic newsletter if you let me know you will be using it and you must include the following paragraph at the end of the article:

2006 Michele Weiner-Davis Training Corp. Reprinted with permission of Michele Weiner-Davis. Subscribe to the FREE "Divorce Busting" newsletter at www.divorcebusting.com, the place where marriages become stronger and more committed.